The Volkswagen Atlas and Kia Telluride are both high-quality SUV models, but in a VW Atlas vs. Kia Telluride comparison, only one vehicle can come out on top. Despite these models' similarities, the Volkswagen Atlas stands out with its spacious dimensions, relentless power, and wide range of available trim levels. See for yourself how the competition stacks up as we compare these SUVs.
KIA Telluride vs. VW Atlas Pricing and Trim Levels
Some of the first differences you'll notice in a VW Atlas vs. Kia Telluride comparison are the ways that these models cater to your style preferences and budget. Trims for both models come at similar starting prices; the base SE trim for the 2022 Volkswagen Atlas starts at $33,475 MSRP.1 However, the 2022 VW Atlas trims are newly redesigned with a bold, sleek exterior to appeal to every kind of SUV driver.
When you visit our dealership, our experts can break down the starting price of your prospective vehicle in line with various trims and packages. Should you decide to buy a new Volkswagen Atlas, you'll be able to pick from the following trim levels:
2022 Volkswagen Atlas SE
2022 Volkswagen Atlas SE With Technology
2022 Volkswagen Atlas SEL
2022 Volkswagen Atlas SEL R-Line
And if our available trim options happen to exceed your budget, our new VW specials section is here to help you save on your new Volkswagen vehicle. We update our specials and coupons all the time to reflect the needs and desires of our customers.
Compare VW Atlas to Kia Telluride Performance Head to Head
If you're all about an SUV with MVP-level performance, a Telluride vs. Atlas comparison makes it clear which model is the right choice. The 2022 VW Atlas uses a 3.6L V-6 engine to produce 276 horsepower and 266 pound-feet of torque. The 2022 Kia Telluride can only generate 262 pound-feet of torque.2
Both models offer excellent towing capabilities. Both the Atlas and Telluride can tow up to 5,000-pounds3 when properly equipped. The VW Atlas can also hold a payload of over 1,300-pounds, which will come in handy when filling up all that extra cargo space.
2022 VW Atlas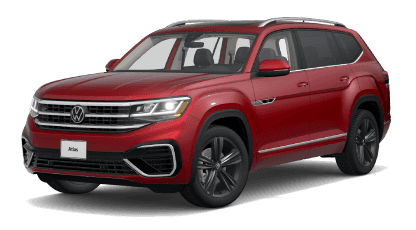 | | |
| --- | --- |
| Engine | 3.6L V-6 |
| Torque | 266 lb-ft |
| Cargo Capacity | 96.8 cu. ft. |
| Towing Capacity | 5,000 lbs. |
| Payload | 1,396 to 1,495 lbs. |
2022 Kia Telluride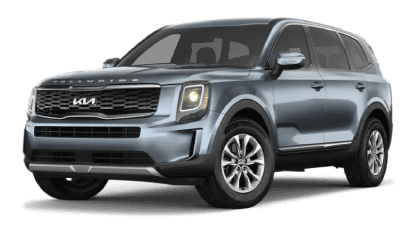 | | |
| --- | --- |
| Engine | 3.8L V-6 |
| Torque | 262 lb-ft |
| Cargo Capacity | 87 cu. ft. |
| Towing Capacity | 5,000 lbs. |
| Payload | 1,257 lbs. |
Dive Deeper Into the VW Atlas vs. Telluride Dimensions
Whether you're looking at the VW Atlas or Kia Telluride dimensions, you'll find a spacious three-row seating arrangement at the core of each vehicle's design. You can seat seven passengers comfortably inside the VW Atlas or Telluride, but the VW Atlas has more legroom. The Volkswagen Atlas also offers more comfort to boot, with synthetic leather upholstery and heated front seats that come standard.
Both models have similar passenger volumes overall, making for incredibly spacious accommodations. However, the VW Atlas offers up to 96.8 cubic feet of cargo space with the rear seats down, while the Telluride only has up to 87 cubic feet of cargo space with rear seats folded down. The Atlas is longer, wider, and taller than the Telluride, giving you a much more comfortably spacious driving experience. In a Volkswagen Atlas, style and comfort surround you on every road trip.
2022 VW Atlas
| | |
| --- | --- |
| # of Passengers: | 7 |
| Length: | 198.3 inches |
| Width: | 78.3 inches |
| Height: | 70.0 inches |
| Interior Passenger Volume: | 154 cu. ft |
2022 Kia Telluride
| | |
| --- | --- |
| # of Passengers: | 7 or 8 |
| Length: | 196.9 inches |
| Width: | 78.3 inches |
| Height: | 68.9 inches |
| Interior Passenger Volume: | 157.1 cu. ft |
VW Atlas vs. KIA Telluride FAQs
The Volkswagen Atlas is a popular SUV model because it goes above and beyond drivers' expectations. That's why we get so many questions about this SUV. Below are some of the questions we hear the most about how the VW Atlas vs. Kia Telluride compare.
Is the VW Atlas bigger than the Kia Telluride?
When you stack the numbers up side by side, it's clear that the Volkswagen Atlas has a size advantage. This model is longer, wider, and taller, and it fits 154 cubic feet of passenger volume. Seat seven comfortably, along with a stack of suitcases or golf clubs, and no one will feel like their elbows are crammed in.
How much can a VW Atlas tow?
Towing is an important part of what defines an SUV. If you plan on pulling a fishing boat, small watercraft, 4×4 vehicles, or other towable equipment, this SUV is more than up to the challenge. Enjoy a towing capacity of up to 5,000-pounds3 when properly equipped.
How many miles does the Kia Telluride last?
There's no official information for this particular measurement, but car reviewers have always been fans of the way that both Volkswagen and Kia SUV models hold up. Look up and down the Volkswagen lineup, and you'll find many models that receive top reviews for longevity from trusted automotive reviewers. Every year, VW engineers push the envelope when it comes to making a better car from every angle.
Go Big or Go Home When You Choose the VW Atlas vs. KIA Telluride
Thank you for taking the time to read our Kia Telluride vs. Atlas SUV comparison. If you're looking for more information about the VW Atlas, check out the trim levels we have in stock currently for the VW Atlas Cross Sport SUV. This hard-charging road warrior never backs down from adverse weather or road conditions and has the ruggedness to keep the elements outside while locking down comfort and climate control inside.
If you've been looking to push past the limits of your smaller SUV or sedan model, you can move forward confidently knowing that our VW SUVs have consistently satisfied local drivers. Call or visit our dealership to take home a car you love today.
---
1All prices shown are the U.S. Manufacturer's Suggested Retail Price ("MSRP") and do not include extra costs, such as, but not limited to, taxes, dealer charges, registration, and transportation. For specific product availability and program information, please visit your local authorized Volkswagen dealer.
22022 Telluride SX with optional Nightfall Edition Package shown with optional features. Not all optional features available on all trims. Some features may vary. Limited availability.
3Maximum tow rating when equipped with 3.6L V-6 engine and factory-installed towing hitch. Vehicle load, other accessories, and options may reduce maximum towing capacity. See vehicle Owner's Manual for details.